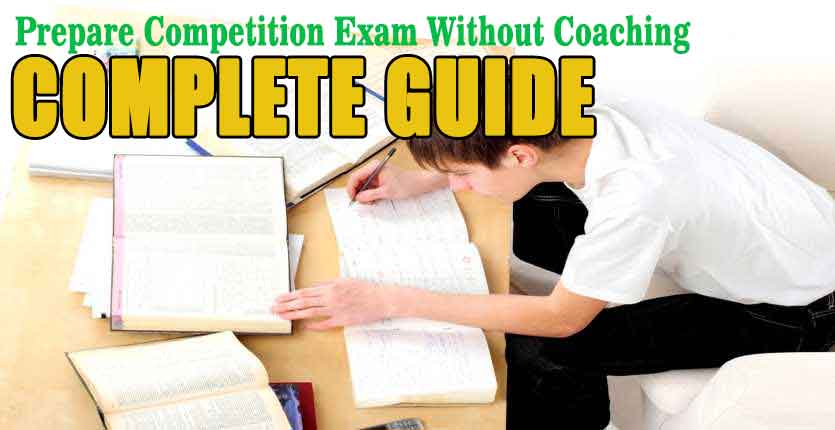 Friends, today's era is a competitive era, so to prepare for the Competition Examination
We have to prepare with hard work, passion and good strategy. After this we can make the exam successful. Today, every young person is preparing for a competition examination and in this way everyone is engaged in the race to achieve success.
Those who work hard and diligently in this race, achieve success, who do not, then they are left behind in this race, and they get the hand of failure.
If you also want to succeed in competitive examinations, then you have to show the best performance in preparation for it. Today, through this article, you will be told to prepare for the Competition Examination without coaching, through which you will be able to achieve success in the Competition Examination. The information for this is as follows.
Confidence is essential
It is very important to have confidence in doing any work. When it comes to preparing for the Competition Examination of Coaching, its role becomes even more important. Therefore, while preparing for the Competition Examination, do not let the lack of self confidence in you. Keep believing in your mind that you will definitely succeed in cracking the Competition Examination.
To increase self-confidence, we should continue to be thickweight in the middle. To increase self confidence, self confidence can be increased with the help of family members, motivational books and any path guide. In this way, it is very necessary to have complete self-confidence in preparing for the Competition Examination.
Content for study is essential
For the preparation of any exam, it is very important to have a related subject matter. If you do not have the material related to it then you can not get success in passing the Competition Examination any time. You should keep all the books and other related materials related to the Competition Examination in the study room, which can be easily taken advantage of when necessary.
The time table is essential
If you are preparing for the Competition Examination without coaching then using the time table for you can prove beneficial. Using any time table, you will not have any of the topics pending. By using it you will be able to give all the subjects time needed. In this way, the focus will be on all your subjects. In this way, the timetable will also play an important role in preparing for the Competition Examination of Coaching.
You can basically prepare topics such as English, Hindi, Maths, Science, using the time table, doing something like this. Such as Grammar in English, Grammar in Hindi, Chemistry in Science, Biology and Maths, Tables and Basic Airthmatic Operations such as Add, Subtract, Multiply, Division should be prepared. Which makes you easy to understand further topics. Most of the questions in the examination are asked about basic topics.
Making notes is beneficial
If you are doing a regular study then it will be very important for you to prepare the notes. It is necessary when preparing for the Competition Examination, make notes of whatever you have read or understand, because if you have read whatever you have forgotten after some time Can. Therefore it is very important to create notes for Competition Examination. There are some things that are needed when making notes.
Make notes in a clean and easy language, there should not be much complexity in language as it can cause problems in understanding when you repeat it.
You can also use the chart while preparing notes. Put the chart in your study room. Writing point versus to the topics while creating notes, otherwise there may be a problem understanding.
Voice notes can also be beneficial for you. You will find it easier to remember when you find yourself time created by them.
After making notes, you must read carefully those topics once, which will be easy to remember.
Careful things to note in exam time
When the exam time is approaching, solve old question papers, which you will get advantage of in exam hall.
Look at the shortcomings of yourself, solve the question paper in the given time frame. Which will speed you to solve the question paper inside you.
Time management has special significance in the examination hall, so prepare time management before taking the exam and make sure that the time period in which you have to give it. Give time in accordance with time management in all segments.
Avoiding Negative Marks in any exam is the most important, so do not ask wrong questions and answer the right questions.
Read More.