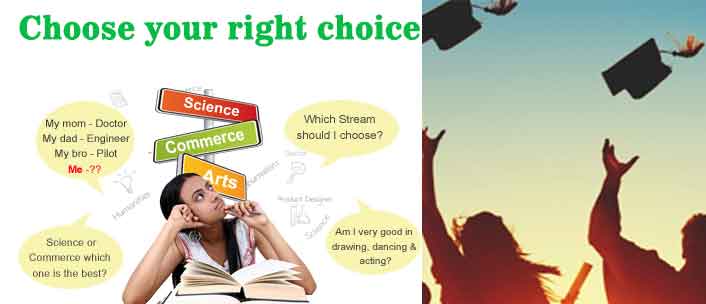 Friends, today we will learn through this article that what kind of course should we do to build a good career and how should we choose college? We should choose courses and colleges that can prepare us for the future.
All students dream of getting good salary and good pay packages after studying. By which they can fulfill their dreams of life. In order to fulfill these dreams, the area that you choose for study requires good work, then we can succeed.
How to Choose College-
Check it anywhere before admission whether it is accredited by AICTE (All India Council for Technical Education) or UGC (University Grants Commission) or not. Get the first hand information about faculty from the students there. Learn about the internship and placements information from them. Do not just trust the college's website but also collect information from where you can find it.
How to select-
In the maximum number of students intermediate, science, commerce or arts, whatever streams select, decide the career ahead. On this basis, they enter courses in medical, engineering, computer science, ca, cs, mba, hotel management, fashion designing etc. It is important for the students to understand which topic they choose.
Identify Passion-
Whenever we do any work, we must recognize our passion, what is your passion? What do you want to read? Which topics are you interested in? The best time to recognize the 10th to the 12th Passion, which recognizes your passion at the moment, will decide at the right time, strategy will move forward with planning, then there will be no shortage of options in the future.
Remove Confusion -
If you have confusion within you, then take advice from your teachers, parents or seniors will help you make a decision. Never take care of your career in the end. It is likely to lead to mistakes. Looking for advice can solve any problem.
Do not imitate friends-
The ability of each student is in other subjects. Someone likes maths, someone enjoys petting, so dreams of becoming a dancer. But it is not necessary that those who are doing the other, think of doing the same thing. Forced engineering or medical waste do not waste time. Choose only if you like it yourself.
Keep getting thickweight -
Keep on getting motivated to succeed in life and to increase self-confidence. To get thickweight, continue to take the help of experts, magazines, newspapers. Meet the experts of different fields, it will be easier to make balanced opinions. You will get a lot of help in making the decision.
Keeping these things in mind, we can easily choose courses and colleges. We believe that you will definitely get help in choosing college and course.
Read More.