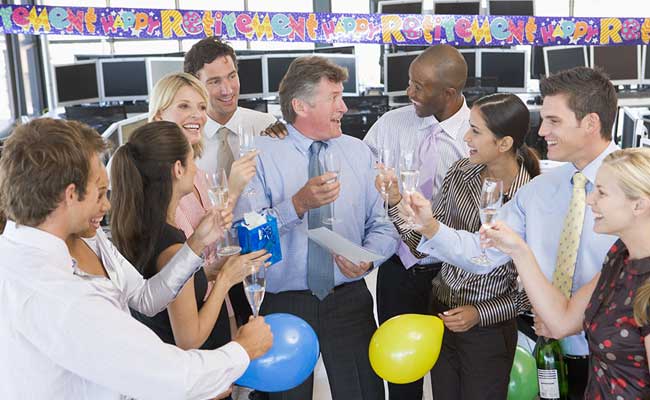 Here we are providing Retirement Farewell Speech by Juniors in English Langauge for student & competitive Examiner with given as per the time limit 3 minutes, 5 minutes, 7 minutes etc.as per your requirement select the speech.
Retirement Farewell Speech - 1
Good afternoon, the Board of Directors, colleagues and friends are happy to give a speech on the retirement of ABC Multinational Company as Chief Executive Officer. I welcome you all for this difficult but special occasion.
I have spent ten years with many of you in this company as an executive officer, delighting to accept that you have given me the best working conditions and environment to distribute my duties and responsibilities. is. The company is in a highly profitable position and is well-managed by all of you. Thus, now I feel that this is the best time to take retirement from my position and gives other young and charismatic leaders an opportunity to take over the position.
During the tenure of this company, I had the opportunity to learn a lot of things, which have helped both my professional and personal life. I met and made many friends who helped me. I have learned various important skills like management ability, time management, honesty and teamwork. It is clearly evident that we have achieved success by working together as a company and earned many awards as a multinational company due to our dedication and motivation towards reaching our goal. Thus, I can definitely claim that my success in this company is due to the support of all of you.
It gives me great pleasure to claim that our company is the pioneer in the present time. This is all because we work as a team and respect every person in the organization despite the company's value and role and role. In this special moment, I express my sincere gratitude to all my colleagues for ensuring that the company grows beyond the prescribed expectations. Nothing will be possible without the support of my team and other co-workers, without hard work and dedication. I'm a little sad because I'm going to remember you all and this environment.
I remember the time when the company suffered a big loss and became impatient with the shareholding company, this board director and my colleagues stood with me and inspired me, this was a big challenge for us and your dedication and unconditional Through support we came on the situation and are now making huge profits.
This company has been my dream and my only wish was that this company is growing every day. We have achieved success but it is important that we maintain this success for the coming years, in fact it multiplies with many more praise and recognition. ABC Multinational Company is proud to be associated with all dedicated customers and employees.
I express special thanks for you all and wish that you will be successful in your life. There is a lot to learn from you; So be focused and continuous and you will succeed in your future efforts.
Thanks a lot.
Retirement Farewell Speech - 2
Happy everybody for the day! Respected teachers and my dear students! I hope that all of you know that we have gathered here so that I can speak the last goodbye because this is my retirement day from the position of principal of our ABC School.
My association with this prestigious school has been more than 15 years and it is unnecessary to say that I have developed invincible bonds against this institution. Therefore, it is a bit difficult for me to call my duties and responsibilities right now. However, I still want to take this opportunity to share things about my visit as the Principal of ABC School before retiring from the situation. Although the trip was really very exciting and prosperous for me, but it was challenging at the same time. Since it was not possible to shoulder the responsibilities of my whole school, I would like to personally thank my school Vice Principal, Dr. Shanti Devi as well as stand in the process of shaping and shaping career The future of our country
Of course, I could not fail to mention my students who have performed well not only in their academics but also in other co-curricular activities. Apart from this, without the support of our school teachers, I would not be like the ship, in which there is no anchor. All of you have made me today and have endowed me with the ability to work towards the development of our school and take it on new heights. It laughs my chest proudly and says that today our school has achieved a high degree of success and has received statewide greetings and awards due to the hard work of everyone associated with our school.
So, what time is better than now, when I can see the best time to retire happily after this situation. However, I definitely expect everyone from all over here to achieve new goals of success and our schools can get pride around the world. After spending a memorable time here, after making countless unions and seeing incredible successes, I am retiring in my heart with very satisfaction and there are special moments that will always stay close to my heart.
Although I am not sure whether I am able to win your heart or not, but I can bet on one thing, all of whom have shown the spirit of the team, whatever challenges we have faced in the last few years is. I could have banked my teachers and students every time whether it was hosting any event in our school, organizing a workshop or arranging for a guest trip, etc. You all have exceeded my expectations
I wish for a bright future for all my dear students and a rich career for my staff and faculty members. Keep moving like that; Maintain passion and enthusiasm for achieving something bigger and better in life.
Thanks a lot!
Retirement Farewell Speech - 3
Hello friends glad
After all, we all have gathered here, to become part of this very special, bitter-sweet opportunity. Thank you for arranging such a grand farewell party for me, you have put all your efforts on making your last day memorable in this office as you did during the past years.
It is my pleasure to join all the wonderful and beautiful people with whom I have the opportunity to work in this company during my tenure. From the depths of my heart, I have great memories of shared time, magical friendships and incredible successes which we have experienced; All this has been an extraordinary part of my life.
I am very happy to say that each of you, the board of directors, my colleagues and friends has given me the best work environment and great freedom with faith to follow my duties. All of you have strengthened my thoughts by believing and believing in me. I am proud to claim that my career in this company has been excellent due to the support, appreciation, encouragement and cooperation received from each of you. I can not thank enough for this
But now, there is time and freedom for me that I am eager to pursue my hobbies and interests, who are writing, traveling and hanging with my family and friends.
My lovely team, I am very proud of what we have achieved together and they are the times I can never forget. As is obviously obvious, we have achieved a lot in working harmony as a company. My career has been challenging and rewarding. I have put in my best and I have been rewarded well by management. I have the privilege of being part of such a team who has achieved success, which is the pride of all of us.
I am very few words to thank the people, especially the board directors, even in such times when things are quite challenging. With the help of your cooperation, hard work, kindness, friendship and praise, I have achieved what I have achieved and can give my company the best. You are difficult to bid goodbye, but the time tells you to do this. I am going to remember this amazing atmosphere, such colleagues who always stood by me and helped me to carry out my plans.
I am confident that this big company will grow and prosper and I believe that every one of you will scale great heights here. Keep up the good work.
Thank you for sharing this wonderful festive dinner with me and thank you for incredible love, support and friendship. All of you will be remembered thank you all, thanks for all your wishes I am overwhelmed by this love of yours
Stay Connected! Bye!
Retirement Farewell Speech - 4
good Morning dear friends; Thank you for joining me on my day of retirement. It's time for me to summon my tenure at this level and say goodbye to you all.
Today I stand in front of you and I am afraid that many of you have thought of my retirement ceremony for my time.
I am here to share your grateful gratitude for the time you spent with your people in this company with your time here. This is a long journey; During this tenure I am able to build myself. It has been a phase during which I have become more courageous, kind and more enthusiastic. What makes me today, thanks for making me Your love, affection, care and knowledge have made me stand high today.
I am grateful to the management for keeping my talent and work ethics in mind and encouraging. You looked at my skills and appreciated them from the beginning. I want to thank all of you from below your heart for believing in this whole term and enriching my life. You are like my second family and you have helped me in my career and in my personal life too.
I have to say that I have been allotted the company's best team, I can look proud but in fact this is true. My teammates have been the best part of my journey, they have revived my dreams and have put in all efforts so that we can accept different people and be known as a unit in the company. Last week, I remember one of them said, sir, we wanted our every retirement to come on the same day. Just think, these young bloods are saying such great words. What could I ask for more? You all meet me
You have always helped me and stood by my side. You have understood me, when things got a bit blurred and I thank you for that. I have to thank all the bosses and colleagues for giving me the opportunity to get my full potential and give me the opportunity to make a name for myself.
Thank you for feeling my full potential. Thanks to the start of this grand morning on my last day and I am hoping that the time ahead will help me to enrich me more. Each one of you will remain forever in my heart. I wish that this company reaches great heights and remains connected to all of us for the entire time.
Although our paths are changing now, I request you to join me. I am now considering the post-retirement phase as a holiday, and it is hoped that during this phase of my life people will not forget me.
Thanks for being a part of this trip. I will miss you all. Thank you for feeling honored to hear such great words for me! Thanks to the whole thing.
good luck everyone! Bye!
Read More.