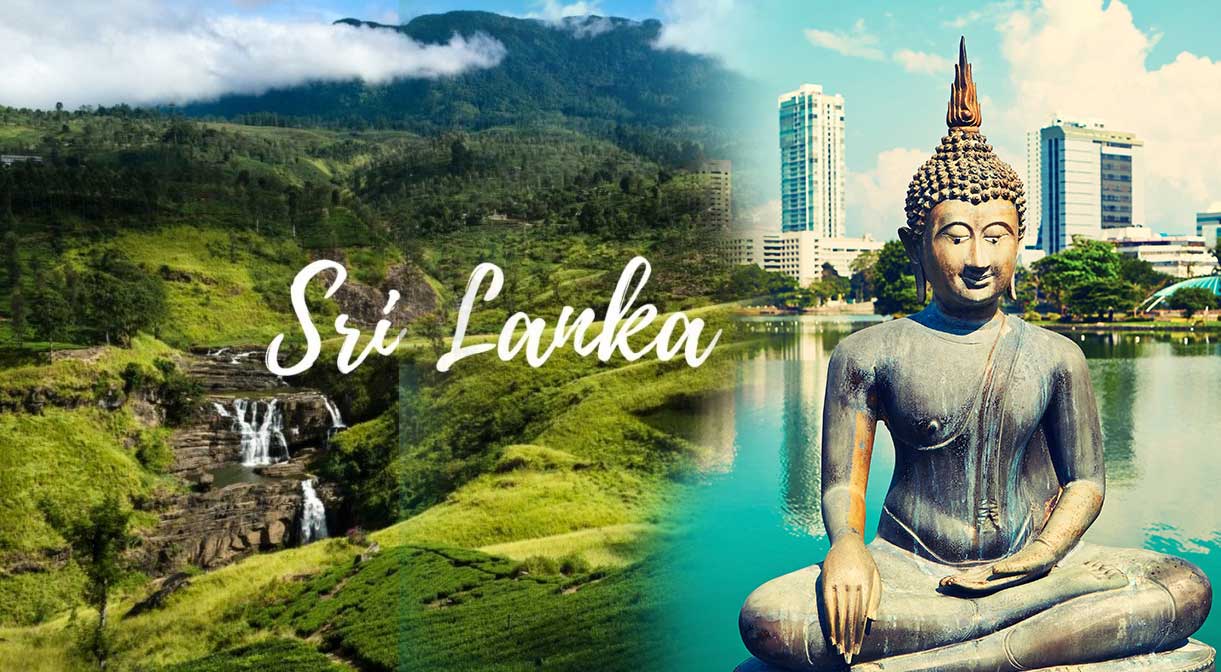 The name of Sri Lanka was, by 1972, its name was Ceylon, which was changed in 1972 to Lanka and in 1978 it was added to the honorable word "Shri" in Sri Lanka. This country is a multi-ethnic and multi-religious. Full information about Sri Lankan like this - Sri Lanka Information Read More -
Important events and information about Sri Lanka country
Sri Lanka, officially the Democratic Socialist Republic of Sri Lanka, is a land of South Asia near South-East India. The boundary of India in the north-west of Sri Lanka and the border of Maldives in south-west.

The documentary history of Sri Lanka is 3000 years old, along with some evidence of human habitation in historical times before 1,25,000 years ago. It is a geographical place and deep port established since the end of World War II also gives strategic importance to this place. Sri Lanka was known as the beginning of the British colonialist as Ceylon until 1972. In the latest history of Sri Lanka, the 13-year Civil War is included, which was firmly ended when Sri Lankan soldiers defeated the Liberation Tiger of Tamil Eelam (LTTE) in 2009.
It is a country with diverse and multiculturalism, and Sri Lanka is home to many religions, ethnic groups and languages ​​too. The majority is Lanka, many are Sri Lankan and the home of Indian Tamil, Moore, Borger, Malaya, Kafir and Adivasis Veda people too.Shri is rich in Buddhist heritage in Lanka and is also famous for the writings of Sri Lanka Buddha.
Sri Lanka is a republic and the United States, which is ruled by the semi-presidential system. Sri Jayawardenepura Kotte, the statutory capital of Sri Lanka is the largest city of Colombo.
The history of Sri Lanka was very long on international occasions, as well as Sri Lanka's Association for South Asian Association for Regional Co-operation and United Nation, Commonwealth of Nations, G77 and Non-Aligned Movement. With the highest growth rate in the Human Development Index with Maldives, Sri Lanka is one of the two countries in South Asia.
Some Important Days in the History of Sri Lanka - Important Dates in Sri Lanka History
Fifth Century BC - Indo-Aryan migrants settled on an island, removing them from northern India.
Third Century BC - The Tamil people started getting out of India.
1505 - Portuguese people arrived in Colombo, this triggered European interest.
1833 - The entire island was combined under the British administration.
1948 - Ceylon gets complete freedom
1972 - Ceylon's name was changed to Sri Lanka.
1976 - Liberation Tiger of Tamil Eelam (LTTE) begins to walk straight away.
1983 - Civil War started.
2009 - LTTE lost, 70,000 to 80,000 people were killed in the war.
Interesting Facts of Sri Lanka
1. From the mid-1600, the Dutch ruled the entire island except candy.

2. Ancient Sri Lanka's first capital was Anuradhapura and in ancient times it was known as Anuradhapura Empire.
3. This was the time when some relics of Buddha came from Anuradhapura to India. From then on, the people of Lanka started becoming followers of Buddha.
4. The era of this era ended when the South Indian king attacked and attacked this empire. After this Sri Lanka was transferred to the capital in Polanaruwa.
5. After about 150 years later, five small empires were built by polanaruva in small pieces.
6. The forces of Lanka were taken to Shri Jaiwadanpura Kotte, which is located just a few blocks from Colombo.
7. About 4 centuries after Portugal's people established a trade port in Colombo and sent candy to their capital.
8. After 150 years, the British began to take control of this island, and in 1815 they finally conquered Kandy.
9. The British imported the Tamil people to work in tea, coffee and coconut farming.
10. Sri Lanka got complete independence from the British in 1948
11. Launch of Sri Lanka Civil War from 1983-2009.
12. Sri Lanka's name was Ceylon until 1972.
13. Sri Lanka is like a drop of tears. That is why Sri Lanka is also often referred to as the Indian Pearl Pearl.
14. Sri Lanka is an island which is surrounded by the Indian Ocean in the west and the Bay of Bengal in the east.
15. This island has a coastline of 13,640 kilometers.
16. Sri Lanka was one of the most affected countries during the Tsunami in 2004.
17. Sri Lanka's official name is "Democratic Socialist Republic of Sri Lanka".
18. The government system here is based on the semi-presidential republic.
19. Sri Lanka has two official languages ​​- Sinhala and Tamil.
20. Mahinda Rajapaksa is the current President of Sri Lanka.
21. In 2012 the population of Sri Lanka was about 20 million.
22. Any person of Sri is called Sri Lanka or just Lankan. They were never called by their castes.
23. 70% Mr. Lanka is a Buddhist.
24. Like the Indians, Sri Lankan people also eat only.
25. In Sri Lanka, 12% Hindus, 9% Muslims and 7% Christians live.
26. Sri Lanka's currency is Sri Lanka rupiah.
27. GDP of this island nation is 143 billion.
28. According to Capita on GDP, it is the second most prosperous nation in South Asia.
29. Ceylon Tea is one of the most exported products from Sri Lanka.
30. In Sri Lanka, the meaning of Sri Lanka is from the "magnificent island".
31. The word Sinhala means "the blood of the lion."
32. The tooth remains of Buddha are currently installed in the temple of candy.
33. Like India, Sri Lankan people are also crazy of cricket.
34. In the Indian epic Ramayana, who had seized Sita by the wicked king, he came from Sri Lanka.
35. The British Prime Minister Rajiv Gandhi was killed by the LTTE.
36. Sri Lanka is the only international airport, which is in Colombo.
37. The most famous alcohol in Sri Lanka is Arrack, which is made from fermentation of fruit, coconut, rice or sugarcane.
38. There are about 20,000 elephants in Sri Lanka.
39. Sri Lanka has casino in Colombo.
40. Here the coconut is large enough to come.
41. If you have to make international calls in Sri Lanka, put the +94 on the phone while dialing and then dial.
42. Sri Lanka has a total of 8 UNESCO World Heritage Sites.
43. Women in Sri Lanka eat something after eating their men and children's food.
44. The Colonial rulers often lived in Nuwara Eliya during the summer.
45. We can also see Sigiriya from the top of Dambulla Cave Temple.
46. ​​KFC is also known as Hot Pack in Gaille.
47. Many monkeys are found in Anuradhapura.
Read More.