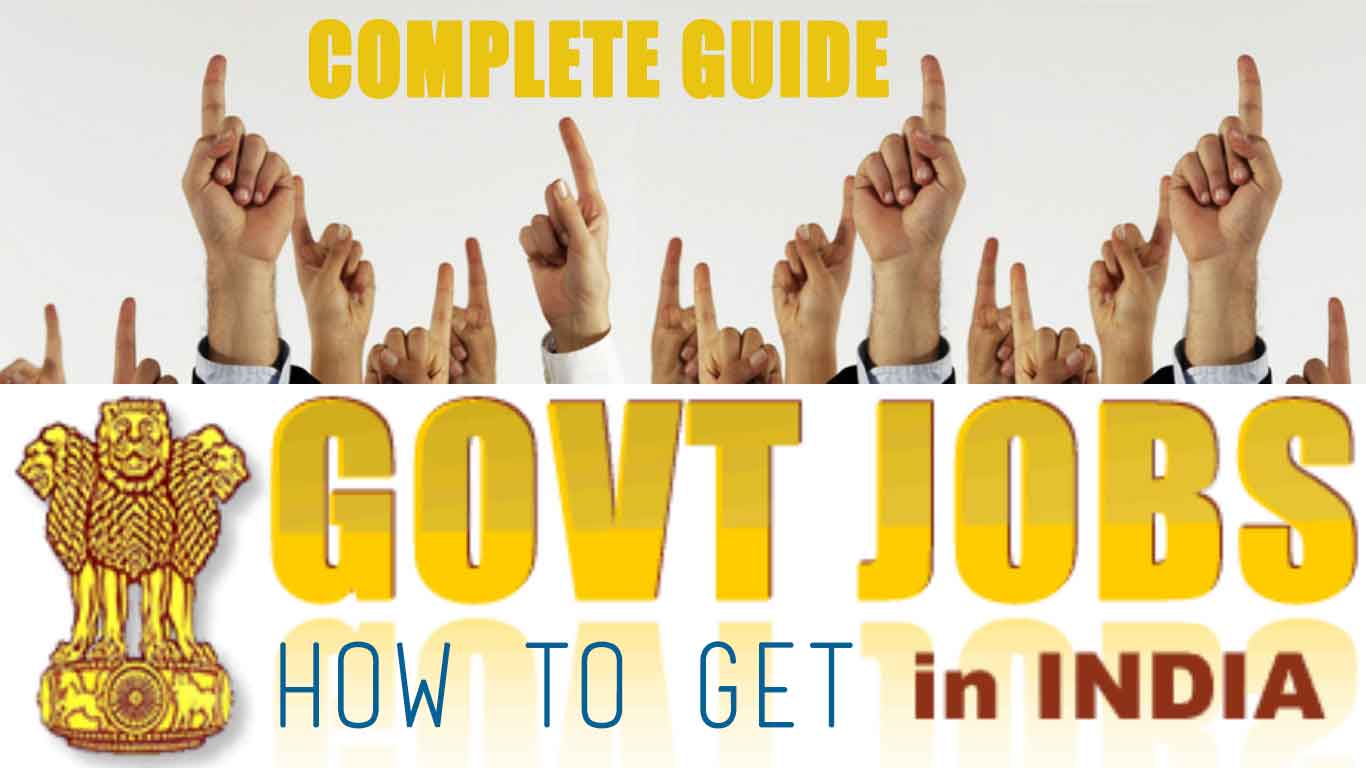 Government job is also the most liked job of youth in today's time. Due to job security and many benefits, there is a lot of demand for government jobs in India. Every other person in our society will be preparing for government job, so there is a lot of competition in this area too. Only a few of these candidates are successful in getting government jobs. There is a need for some patience to get government jobs. Getting a government job is not an impossible job but it is not very easy. Many candidates want to know how to get a government job, for this, you have to work with full dedication, patience and honesty.
Candidates can get government jobs as per their qualifications. Candidates of 10th, 12th, Graduate, Para-graduate, Diploma etc. can seek government jobs in accordance with their academic qualifications. However, the main thing is that, to find the right and qualified government jobs, you must follow the appropriate steps. The jobs most sought by candidates are Army, Bank, Teacher, Civil Services, Professor etc. But the candidates can apply in other government jobs in addition to them. Let us also know in today's article that depending on your merit, what government jobs can you apply for.
Government jobs for class 10 pass
Government jobs are available on the basis of the merit of everyone in our country. So let us see that the candidates who have passed Class 10 are eligible for which job application. If you have done ITI along with Tenth, then it can prove to be very useful for you.
Security forces
In the police department
SSC
Data Entry or Computer Operator in Government Department
In railway
Government jobs for class 12 pass
Candidates who have passed Class 12 and they are now looking for government jobs, they can look for some of the key recruitments below and start preparations according to them. However, taking a government job is not too small, but there is no big deal. So you have to prepare for this as well. Some major recruits
NDA / Indian Army, Indian Coast Guard, Protective services etc.
Police Force
Fire man
In the Staff Selection Commission (SSC)
In railway
For Graduate and Para-Bachelor
Although there are government jobs for everyone in India, but if you are a bachelor or a postgraduate, then you have many opportunities to get government jobs. Let's see some of the key recruits
UPSC IAS, IPS, IFS
in bank
CDS / Safety Forces
For Teacher / Professor
Police Force
In SSC
In railway
Candidates who are really interested in getting jobs in the government sector, they must keep the following things in mind.
Job Identification Based on Your Qualification and Interest
The government organizes recruitment process for various posts vacant in many departments every year so that the candidate should make appropriate preparation for the examination for the same posts other than the other posts in which you have interests and qualifications. Film 3 Idiot has a dialogue "The work that you feel good should do, only then will the perfection" fits for it.
Self-confidence
You can not know any more than yourself, so make a clear image of your own in your mind and contemplate what you can do. Analyze your knowledge, self-confidence and skill, and try to fulfill whatever is lacking.
Prepare as per rules
It is necessary to prepare a necessary framework for passing government examinations. So focus on your efforts in that direction. For this purpose, prepare according to the rules by publishing books for the government job exams by different publishers. "The combination of doing and doing practice is swell." This Doha proves that success can be achieved only through regular practice.
Keep patience
As we have already mentioned that government jobs are very patient jobs, so it is important for candidates to be patient for government jobs. For example, for many of us IAS / PCS officers who have achieved success after years of hard work, this proves that patience is very important.
Keep an eye out for notifications
If you really want to get government jobs, then it is necessary that you have a look at all the governmental appointments. For this, you can look at the employment papers, get information about all government recruitments through social media or through any other website such as our website www.fastread.in/jobs.
How to prepare for the Gov. exam
For the whole year, the Central Government or State Government keeps recruiting process for various posts, so all the vacancies coming to the candidate should be kept in mind and necessary preparations should be made accordingly. As the time for the exam is nearer, It does not understand where and how to prepare for the exam and how to get success. So in today's article we will tell you how to prepare for government exams.
How and where to start?
The candidate should start slowly preparing the necessary preparations for the examination so that you will not only have to repeat in the last minute but also have to read the full. While preparing, you can also find some questions that you can not solve, you can take help of someone or you can get help from a good coaching institute. In today's time you can also study through the Internet, you can also read through the video on YouTube.
Make time to prepare
Candidates should set a deadline to prepare for the exam and prepare according to this timeline.
Read Daily Newspaper
Candidates are advised that it is very important to read the daily paper to prepare for the examination, as this increases the knowledge of your career. If you read an English newspaper, along with the current affair, you will also learn some new English words.
Information about topics in the examination
It is necessary to know about the questions asked in the examination that the questions asked are based on which subject. Commonly asked topics include mathematics, English, general studies / knowledge. Apart from this, the other subjects are varying according to the recruitment exam, for this you need to read the recruitment notice.
What to Read?
As we have already told you that the main requirement for the official examination is Mathematics, English, General Studies / Knowledge etc. So let us now know some of the essential topics of these topics, which we have to study.
Mathematics - Explanation, profit-loss, percentage, ratio, average, age, time-span, interest, number series, number system, work and time, mix, algebra, geometry, trigonometry, etc.
English - Reading comprehension, fill in a blank (A mix of grammar and vocabulary, spellings, phrases or phrases, phrases or phrases, one word substitution, sentence correction (Phrase Replacement / Sentence Correction, Error Spotting, etc.
General Studies - General Knowledge, Current Affairs, Sports, News, Books and Writer, Important Dates, Schemes, Information of People in Departments, etc.
General Intelligence & Reasoning - Classification, Equality, Coding Decoding, Puzzle, Matrix, Word Formation, Diagram, Direction and Distance, Blood Relations, Missing Number, Series, etc.
Some important government exams
Civil Services Examination - IAS / IPS
Bank Probationary Officer (PO)
NDA / United Defense Services Examination (CDS)
Staff Selection Commission (SSC)
Railway recruitment examination
Police Department, Paramilitary, Central Police Service and Career in Indian Army
It is a dream of a government employee to pursue a career in the Police Department, Paramilitary, Central Police Service and Indian Army. So tell those who dream of it, let them know that this dream can be right. Let us tell you that for such posts, you have to pay attention not only on your education but also on your physical fitness. And both of these things matter. Let us know that recruitment for various types of posts in these departments arises. These recruitments are for students from 8th to post-graduated students. Also tell you that there are different procedures for the recruitment of all positions from soldiers to officials. If you are thinking of making a career in this field, then you should get employment news, newspapers. Stay active as well as on the internet. To make physical strength, keep doing physical activities daily. You can tell that there are many posts to go to Indian Police Service (IPS) and Central Police Service, State Police Service, Air Force, Navy, or Indian Army.
How to Find Your Career, Made in Government Bank
Nowadays, you have to give a Common Written Examination (CWE) conducted by IBPS Indian Institute of Banking and Personal Selection (CWE) to get jobs in Government Bank or Co-operative Society Banks. Let us know that this test is conducted every year. By taking these exams, you can become a clerk and an officer (Bank PO) in the bank. If you pass this test then you place IBPS in one of the banks you have selected. For more information on IBPS, this post will be done - How to become a PO in the government bank - PO kaise bane - Bank PO .IBPS also organizes recruitment of officers and clerks for regional rural banks (RRB).
Career in the Administrative Department
Even today in India, government jobs are meant for IAS and PCS only. Let us know that there are state level and country-level examinations for creating a career in the administrative department. If you want to pursue a career in the Indian Administrative Department, you will first have to graduate or graduate. After this you have to take the examination conducted by the UPSC, PSC. For more information on this topic "How To Make IAS" posts.
You can get jobs at big posts like Police SP, ASP by giving IPS. Let us know that if you are in the state level examinations, then you have to give the State Public Service Commission's PCS examination and pass it.
Find Jobs in Central Government Departments
If you want to work in different departments of the Central Government. So you have to take the CGL, CHSL, JE, CAPF etc. exam conducted by SSC. After giving these exams, you are on the big positions like Commercial Tax Officer, Food Inspector, Income Tax Officer. If you want to get more information related to the SSC, then this post can be of great help to you.
Jobs in State Government Departments
If you have to work in the state government departments then you have to take the examination through upsssc. After taking these exams, you can sit on the posts like clerk, junior clerk, accountant, patwari, amin and stenographer.
Job in education field
If your dream is to become a teacher in the government school, then you have to do BEd or Ded after graduation. You can get more information of the BE from here. Let us know that if you want to become a professor in college, you will have to give National Eligibility Test (NET) and State Eeligibility Test (SET). And with this you can do higher education like PhD, M Phil etc.
Indian Railways Jobs
Indian Railways extends recruitment for different posts throughout the year through different boards. For information related to such vacancies, you can see from different railway board's web site.
Read More.